Kuwait Airways Dhaka Office
Kuwait Airways Dhaka Office on Gulshan Pink City, Plot No. 15, Road No. 103, Block C, Level 7, Gulshan Avenue, Dhaka-1212 in Bangladesh. Every year, a large number of Bangladeshis congregate in Kuwait.
As a result, Kuwait Airways operates frequent trips from Dhaka Airport Terminal. Kuwait Airways conducts regular flights between Dhaka to the top of such a big number of travelers' ongoing travel services.
As a consequence, this line is the most popular and quickest of all. However, before you fly with Kuwait Airways, you should be aware of the numerous details of their Dhaka branch.
This gives you the ability to reach them for any flying or travel-related requirements. This is extremely beneficial to each and every Kuwait Airways traveler. Discover all information concerning Kuwait Airways Dhaka office Bangladesh Contact Info with us.
Kuwait Airways maintains a presence in Dhaka to service the Bangladeshi customer base. Kuwait Airways Dhaka office is sited at Gulshan-1, in Dhaka, Bangladesh.
The Aviation office is the approved and most trustworthy sales office inside Dhaka. Kuwait Airways is the Kuwait government's major carrier.
The Dhaka office started in 2014 and now operates services to Kuwait City, Qatar, Doha, and Dubai, United Arab Emirates. Aside from domestic routes, the Dhaka authority also offers services to surrounding Bangladeshi cities such as Chittagong, Sylhet, as well as Rajshahi.
The carrier has partner airlines accords with Malaysian Airlines & Royal Jordanian Airlines, which allow customers to fly between any of these two regions and Bangladesh without changing flights.
Contact for buying Kuwait Airways tickets

01713-289170 (WhatsApp)
01713-289171
01713-289172
01713-289173
01713-289174

Note: We only sell Kuwait Airways tickets. This website has no affiliation with Kuwait Airways.
Kuwait Airways Dhaka Office Address
Address
Gulshan Pink City
Plot No. 15, Road No. 103
Block C, Level 7, Gulshan Avenue
Dhaka-1212, Bangladesh.
Kuwait Airways Dhaka Office Contact Number
+88 02 8881742-9
Kuwait Airways Fax Number
+88 02 8881558
Kuwait Airways Email Address
Kuwait Airways Office Working Hours
Sunday-Thursday: 09:00 am – 05:00 pm
Saturday: 09:00 am – 02:30 pm
Friday: Closed
Kuwait Airways Airport Office Address
Hazrat Shahjalal International Airport
Room No. 35/36/37
3rd Floor, Terminal 01.
Kuwait Airways Airport Office Contact Numbers
+88 02 8901778
+88 02 8901182
Kuwait Airways Airport Fax Number
+88 02 8901183
Kuwait Airways Airport Office Working Hours
01:30 am – 09:30 am
Kuwait Airways Cargo Office Address
Cargo Village
International Airport
Room No. 318.
Kuwait Airways Dhaka Cargo Office Contact Number
+88 02 8901359
Kuwait Airways Dhaka Cargo Office Fax Number
+88 02 8901361
Kuwait Airways Official Website
http://www.kuwaitairways.com/
Kuwait Airways Chittagong Office
Kuwait Airways Chittagong office is mainly found at NIB Tower (2nd level), 32 AGRABAD C/A, Chittagong, Bangladesh 4100. Kuwait Airways, founded in 1954, is the regional air carrier of Kuwait as well as one of the ancient airlines in the Mideast.
Offering competitive and lower-cost flights to international locations. Currently operates flights from Chittagong and Dhaka Airports in Bangladesh.
Kuwait Airways Flight Ticket Booking Process from Bangladesh
Web tickets are presently among the most dependable options for obtaining a ticket. An online ticket-purchasing service will save you both time and money. You can buy a plane ticket using your app on your mobile device or PC.
Online purchasing service is not irrelevant; it is a system that allows you to purchase your own tickets via the web or online. Each airbus presently offers several bargains via OTA (Online Travel Agent).
A big number of individuals are presently purchasing flying tickets online. Obtaining an airline ticket online is straightforward.
Kuwait Airways Flight Ticket Cancellation Process from Bangladesh
Since you are planning to cancel the Kuwait Airlines reservation, you should first understand the airline's cancellation procedure.
As said by Kuwait Airways' cancellation policy, you may simply cancel your ticket booking using its company portal and public care.
You can however cancel the Kuwait Airlines flight stay for free, but only until you do so within one day of making the purchase.
You must compensate for the cancellation within a day of the travel purpose.
Kuwait Airways Flight Ticket Rescheduling from Bangladesh
Navigate to the original Kuwait Airways portal. It will be the option to reschedule a trip. Select the option by clicking it. Insert all of the necessary data, such as the booking number and the passenger's identity.
Passengers can arrange both canceled and modified flights. People can reschedule their flight tickets by going to the company's website and selecting the choice of payment mechanism. Another option is to call the airline's helpdesk representatives.
If the customers purchased their tickets directly from the terminal, the customer care personnel will assist them in rescheduling their flights. They can phone their telephone number and request that the flights be rescheduled on their preferred date.
Tourists can also approach their Kuwait airline's Dhaka office or inquire at the local airport in the surrounding district. If the trip was purchased through a travel company or agency, travelers must notify them that they must change their journey to another day.
The methods listed above include how Kuwait Airways flights can be changed to some other date. If a traveler cancels or changes the date of their flight, they can ask for rescheduling without paying any penalties until the planned visit.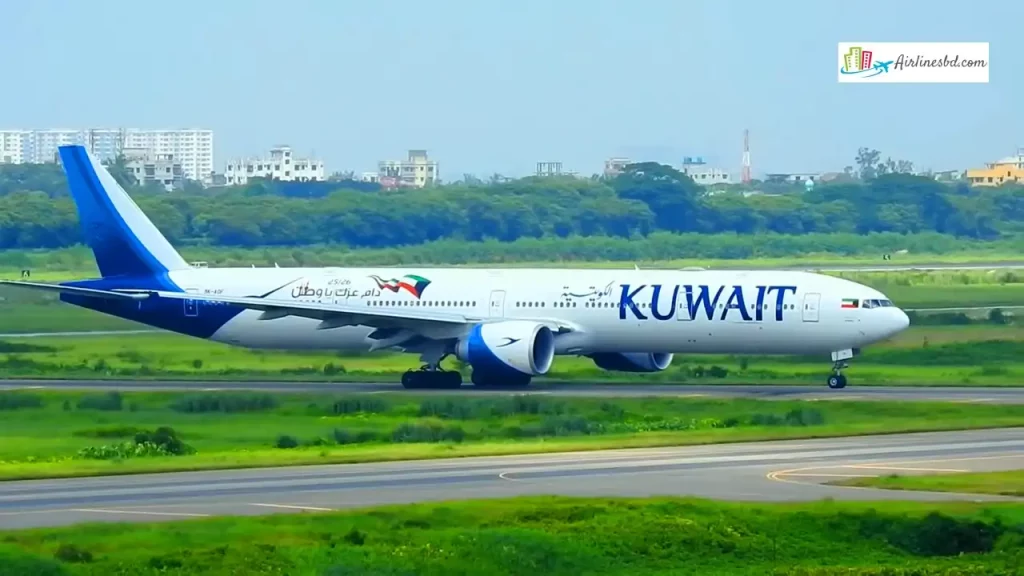 Kuwait Airways Dhaka to Kuwait Flight Schedule
| | | | | |
| --- | --- | --- | --- | --- |
| Flight No | Departure | Arrival | Operation | Airport Code |
| Kuwait Airways 284 | 3:10 am | 5:45 am | Sat, Sun, Mon, Tue, Wed, Thu, Fri | DAC – KWI |
| Kuwait Airways 286 | 10:00 am | 6:00 pm | Sat, Mon, Tue, Wed, Fri | DAC – KWI |
Dhaka to Kuwait Air Ticket Price Kuwait Airways
| | | |
| --- | --- | --- |
| Airlines Name | Road | Ticket Price |
| Kuwait Airways | DAC – KWI | 45196 TK |
Read More: Dhaka to Kuwait Air Ticket Price
Kuwait Airways Online Check-in
Online check-in is indeed an enhanced service offered to passengers that allows them to check in via the online platform from the majority of Kuwait Airways' terminals. You can check in for a ride if you've got a genuine verified e-ticketed purchase and do it within 24 and 3 hours before the flight's arrival.
Kuwait Airways Immigration Services
An integrated flight travels via point A to b B, stopping in place C. A Kuwait transportation visa is only required if you are migrating through Kuwait for further than 24 hours or if you are remaining for less than 24 hours and wish to exit the airport. Kuwait transit visas are available for a maximum period of seven nights.
Kuwait Airways All Destinations from Dhaka, Bangladesh
Kuwait Airways operates scheduled services to 54 destinations worldwide in 31 regions throughout Africa, Asia, Europe, plus North America out of its gateway at Kuwait Airport Terminal.
International Destinations
| | | | |
| --- | --- | --- | --- |
| Bangladesh | Alexandria | Al Najaf | Beirut |
| Cairo | Chennai | Islamabad | Kochi |
| Istanbul | Jeddah | Sana's | Manila |
| Lahore | Delhi | Thiruvananthapuram | Jakarta |
| Bangkok | Kuala Lumpur | Dammam | Dubai |
| Abu Dhabi | Medina | Muscat | Amman & Ahmedabad |
Europe
| | | | |
| --- | --- | --- | --- |
| Rome | Vienna | Paris CDG | Geneva |
| London Heathrow | Frankfurt Main | Istanbul | |
Kuwait Airways In-Flight Meals
Your Kuwait Airways plane tickets include meals. The airline provides a variety of unique meals, all food choices are certified halal aboard, and alcohol is not served on their rides.
Breakfast, luncheon, or supper will be served relying on your scheduled departure. Main course selections for an economy class typically include chicken, lamb, and vegetarian alternatives.
All dishes have included an appetizer and dessert. Fizzy drinks, smoothies, and tea or coffee are indeed available.
Kuwait Airways In-Flight Services
Kuwait Airways engaged Neutral Digital to create an In-Flight Recreation System suitable for a modern, cutting-edge enterprise. On every single Kuwait Airways flight, an in-flight hospitality system is mounted on the front of the couch. Travelers may watch the newest movies, TV shows, and songs in a wide range of languages on their own in-flight amusement screen.
Kuwait Airways Baggage Allowance
Luggage allowances vary depending on the destination and cabin category. Please double-check the luggage restrictions specified on your ticket.
A baggage fee allowance is not permitted for neonates.
Pre-paid Extra Baggage may be bought online, in Kuwait Airways offices, or by contacting the Hotline (171) at a 15% reduction off the usual Excess Baggage rates.
Prior "Pre-paid Excess Baggage" is not purchasable through Online Check.
Pre-paid Extra Baggage will be accessible in stores until 24 hours prior to the planned flight.
Pre-paid excess luggage really shouldn't surpass 23 kg for economy class & 32 kg 1st, Royal Class, and business for each item.
Pre-paid Extra Baggage insurance cannot be reimbursed.
Which you can't bring in a plane those items are?
| | |
| --- | --- |
| Real or toy weapons | Arms and ammunition |
| Explosives or anything containing explosives (fireworks or firecrackers) | Any kind of knifes |
| Metal cutlery | Slingshot |
| Tradesman's tool | Darts |
| Scissors | Knitting needles |
| Corkscrews | Laser pointer |
| Razor blades | Hypodermic needles and syringes (if for medical purposes, you have brought the medical certificate to confirm it) |
Kuwait Airways Missing Luggage
Unless your luggage is missing or mishandled, you must submit it to Luggage Tracing Info.
The Kuwait Airway crew will assist you in tracking your suitcase and scheduling a handover as rapidly as feasible.
FAQ About Kuwait Airways Dhaka Office
How Do I Arrange a Kuwait Airways Ticket to Dhaka, Bangladesh?
Consult us at – 01713-289174 to reserve your Kuwait Airways ticket from Dhaka at an inexpensive price. Kuwait Airways has licensed us to offer their products.
Is alcohol feasible on Kuwait Airways?
Kuwait Airways finds itself in the same situation as Saudi in that it is the priority target for yet another dry state, hence no Kuwait Airways planes carry alcohol on board. According to Saudi Arabian regulations, you are not required to take any alcohol to the plane or consume any alcohol when flying via Kuwait.
Which is the opening and closing time of the Kuwait airways Dhaka office?
Kuwait Airways Dhaka office is open from 9:00 AM. To 5:00 PM.
How many offices of Kuwait airways in Bangladesh?
Currently, Kuwait airways have 3 offices in Bangladesh. Offices are located in Dhaka city, the international airport of Bangladesh, and Chittagong city.
Can I book Kuwait airways tickets from a travel agency?
Yes, you can book Kuwait airways tickets from travel agencies located in Bangladesh. So contact 01713-289173 to book your Kuwait Airways flight now from a leading and reputed travel agency.
Types of Planes Available with Kuwait Airways
Kuwait Airways deploys planes on behalf of the government. The airplane consists of one Airbus A300-600, the A310-300, yet another A319, one A320, 2 A340-500, and another Boeing 747-8BBJ with only a Kuwait Airways-inspired scheme with Province of Kuwait titles.
Related: Air Arabia Dhaka Office | Saudi Airlines Dhaka Office | Turkish Airlines Dhaka Office
The Kuwait Airways Dhaka office responds to all inquiries, including those regarding booking tickets, canceling tickets, rescheduling tickets, approving to board, online checking in, weight limit, flight data, lounge access, in-flight foods, local transportation, missing suitcases, meet and greets, flight Wi-Fi connectivity, in-flight amusements, airport services, flight delays, and more. First Category, Business Class, Economic Class, and Oasis Club are available.