Air India Dhaka office, is located at Hotel Ruposhi Bangla, Dhaka, in Bangladesh. The main office of Air India is in New Delhi. Indira Gandhi International Terminal in New Delhi & Chhatrapati Shivaji International Terminal in Mumbai serves as Air India's primary domestic ports. While Netaji Subhas Chandra Bose Airport Terminal in Kolkata and Chennai Airport Terminal serves as additional offices.
It has a total flight schedule of 82 destinations. By July 11, 2014, Air India joined Star Alliance as its 27th participant. It was founded in 1932 and officially opened for business on July 29, 1946. One of India's largest suppliers of flying services is the country's major airline. Air India Ltd owns Air India.
Air India operates an office in Dhaka for the betterment of Bangladeshi travelers. Air India Dhaka office is in the Hotel Ruposhi Bangla, Dhaka, Bangladesh. Let's know the services they provide.
Air India Dhaka Office in Bangladesh
The Hotel Ruposhi Bangla in Dhaka, Bangladesh, is where the Air India Dhaka office has been placed. The third-largest airliner in India is Air India, the country's national carrier.
Its main office is always in New Delhi. The flag carrier of India and its corporate headquarters are in New Delhi. Air India Limited, a government-owned company, flies Boeing and other aircraft to four local and foreign locations.
The primary emphasis for Indira Gandhi International Airbase Airways is the biggest international operator outside of India, with a sales volume of 7.7%, excluding other target cities within India.
Contact for buying Air India tickets

01713-289170 (WhatsApp)
01713-289171
01713-289172
01713-289173
01713-289174

Note: We only sell Air India tickets. This website has no affiliation with Air India.
Air India Dhaka Office
Address
Hotel InterContinental
Extension Building-1, 2nd floor,
1, Minto Road, Dhaka-1000, Bangladesh
Air India Dhaka Reservation Office Contact Numbers
00-8802-9348691
00-8802-9348635
00-8802-9348502
Air India Dhaka Office Fax Number
00-8802-9348431
Air India sales Office Email Address
Air India Dhaka Office Working Hours
Sunday-Thursday: 10:00 – 18:00
Friday-Saturday: Closed
Air India Official Website
Air India Dhaka Airport Office Address
Address
Hazrat Shahjalal International Airport
Terminal Building No. 1 (2nd floor)
Room No. 15, Kurmitola, Dhaka
Air India Dhaka Airport Contact Number
0088-02-8962904
0088-02-8932267
Air India Dhaka Baggage Services Telephone Contact Number
00-8802-9348691
00-8802-9348635
00-8802-9348502
Air India Flight Ticket Booking Process from Bangladesh
The most trustworthy way to order tickets right now is online. You may save both effort and cash by using an online ticket buying service. With the help of your file, you may book a ticket using your digital device. A method where you may purchase your own ticket via the internet or online.
Nowadays, every carrier offers a wide variety of bargains through OTA. Online flight ticket purchases are currently quite popular. Booking an airline ticket online is quite easy. Just take a few simple actions, including:
Find your route by entering the starting and ending points.
Depending on your schedule, choose One-Way / Round-Trip.
Hit the Search button then enter the Class as well as the number of travelers.
Create an account
To purchase your airline ticket, enter your balance And buy your airline ticket using your fund or balance.
Get your E-Ticket downloaded on your phone.
On-Board Present your e-ticket, pick up your valid ticket and head off on your journey.
Air India Flight Ticket Cancellation Process from Bangladesh
After you've made your reservation online, you may use the "My Booking" area to change or cancel it—but only for tickets that haven't been used yet. From the Air India website, you may get access here to the "My Booking" tab.
If a completely utilized ticket is canceled and returned for reimbursement fewer than three days prior to the flight's planned departure, the ticket is regarded as no FR Credits are granted to the FR profile. Non-airline charges are not refundable.
Air India Flight Ticket Rescheduling from Bangladesh
Consumers can place changes or reschedule their domestic bookings done for free within 24 hours of purchasing if they book at minimum 7 days prior to their trip plans. Air India can provide free rescheduling when you do so two hours prior to the flight.
The rescheduling, although, is dependent on the kind of trip you have booked as well as all of the relevant details related to your Air India purchases.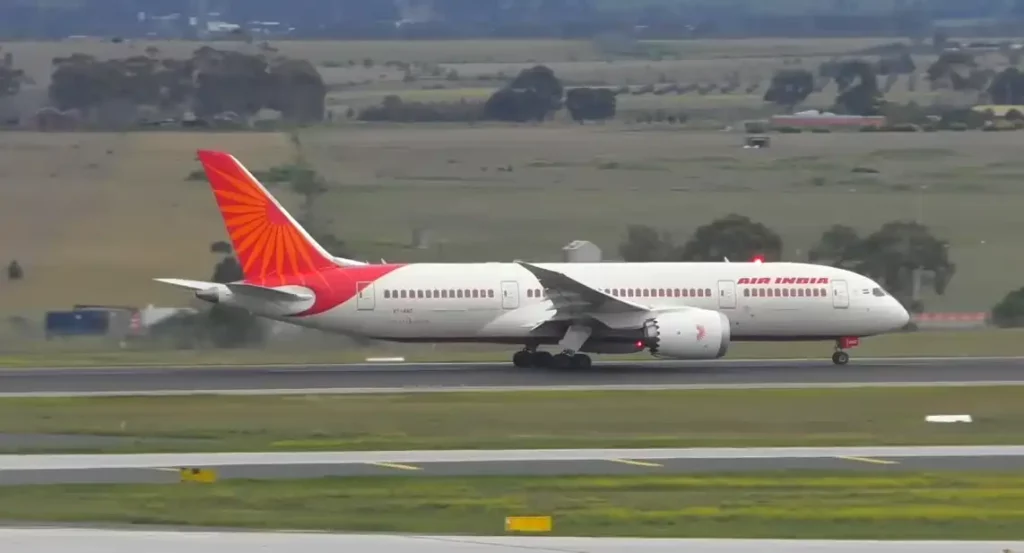 Read More: Dhaka to Kolkata Air Ticket Price
Air India Online Check-in
Online check-in is available starting 48 hours prior to arrival and lasts until 90 minutes prior to the departure time of your trip.
Air India Immigration Services
According to the rules, all travelers must go through Customs and Immigration at the initial port of landing in India & the final port of departure in India. These locations are also known as Gateway Points. Air India ensures its traveler's safe immigration services.
Air India All Destinations from Dhaka, Bangladesh
It has a complete flight schedule of 82 destinations, comprising 35 international and 47 domestic stops in 24 states on four continents.
Asia
| | | |
| --- | --- | --- |
| Bangladesh | Afghanistan | Bahrain |
| China | Hong Kong | Iraq |
| Israel | Japan | Kuwait |
| Myanmar | Maldives | Nepal |
| Saudi Arabia | Oman | South Korea |
| Sri Lanka | Thailand | UAE |
| Singapore | | |
Europe
| | |
| --- | --- |
| Denmark | Spain |
| Germany | Sweden |
| France | United Kingdom |
| Italy | |
Oceania
North America
Air India In-Flight Meals
Pre-packaged meals ranging from hot food to healthful snacking to fresh-cut fruits (together with soft beverages/ tea/ espresso) are available on Air India Express. They also give a free food box including tea or coffee.
Air India In-Flight Services
Films, TV series, music, news, and more await you aboard, promising to spice up your ride with a plethora of channels and programming. Currently, entertainment in flight is not accessible on the Airbus line of airplanes.
Air India Airport Facilities
Purchasing a flight ticket, canceling a ticket, seeing the flight schedule, boarding, receiving visa services, arriving online, receiving a discount, viewing aircraft information, Meetings & Greetings, Flight Internet, Fly Field Wi-Fi, Flight Amusement, Man Pool Function, Immigration Information, Air carrier Food, Flying Ground Transfer, Lost Baggage, Immigration Support, Flight Delays, etc. are served by the airport.
Air India Baggage Allowance
Carry On luggage Allowance-Rest of the International Order
40 kg First Class
30 kg for business class
20 Kgs. for economy class
Infants in all categories -10 Kgs
Newborns who do not need a seat are permitted to check one suitcase, bring one completely foldable stroller on board, or both, depending on capacity. If any traveler is carrying, for example, any of these items may be examined as long as they do not exceed 62 inches or 158 cm.
Which you can't bring in a plane those items are?
| | |
| --- | --- |
| Real or toy weapons | Arms and ammunition |
| Explosives or anything containing explosives (fireworks or firecrackers) | Any knifes |
| Metal cutlery | Slingshot |
| Tradesman's tool | Darts |
| Scissors | Knitting needles |
| Corkscrews | Laser pointer |
| Razor blades | Hypodermic needles and syringes (if for medical purpose, you have brought the medical certificate to confirm it) |
Air India Missing Luggage
A misplaced bag may be considered missing if it cannot be located 21 days after the property irregularity notice. This compensation request will be handled in accordance with established protocols. All claims must be supported by an itemized account of the goods' contents, a description, their age, and documentation proving their purchase or provenance.
FAQ About Himalaya Airlines Dhaka Office
What is the PNR code on an Air India ticket?
PNR views for "Passenger Name Record" on Air India airlift. It will be printed on your airline ticket. While using PNR, you may check the status of any Air India airfare and ticket.
Which one is Air India's founder?
Air India is held by the group of TATA.
What is the working hour for Air India Dhaka office?
It is from 10 am to 6 pm.
Which is the day-off for Air India Dhaka office?
It is Friday and Saturday.
Where is the Dhaka airport office for air India?
It is in Hazrat Shahjalal international airport terminal.
Related: IndiGo Dhaka Office | SpiceJet Dhaka Office | Vistara Airlines Dhaka Office
Types of Planes Available with Air India
Aircraft structure overall: 118
Boeing A319-100
Boeing 320-200
A 320-neo Airplane
Boeing A321-200
Airbus 747-400
Airbus 777-200LR
Airbus 777-300ER
Airbus 787-8
Air India Dhaka office assist you with its best service to erase the problems. To experience a lifetime trip with air India start packing now! Is there any problem with reaching the Air India Dhaka Reservation Office & Air India Ticketing Office address, or Phone number? Please report any issues using the below comment form.