Airlinesbd.com is the authorized sales agent of the IndiGo Airlines Dhaka office. Among the most well-known airlines in India is IndiGo Airways. If you wish to fly from Dhaka using Indigo Airways, you must be aware of all the facts of the IndiGo airlines Dhaka Office.
For a long period of time, Indigo Airlines has had a solid reputation for running flights in Bangladesh. This makes it one of the initials that Bangladeshis who love to travel most often choose. You could be a little concerned if, before making the flight reservation, you were unfamiliar with all the details of this carrier.
Putting a particular emphasis on those difficulties when writing this entire piece today. Everything you require for your Indigo Airways trip is available here. Let's learn as much as we can about Indigo airlines Dhaka office in Bangladesh right now, including its contact info and other facts.
IndiGo Airlines Dhaka Office Address
The Indigo Airlines Dhaka office is based in Gulshan, Bangladesh. Since a long time ago, the IndiGo airlines Bangladesh office has indeed been operating flights. While doing so, it is providing a highly valuable and effective service for Bangladeshi travelers.
You can therefore get in touch with their Dhaka office to discover an easy solution to any aspects relevant to your Indigo Airlines. You should always be aware of IndiGo Dhaka Office Bangladesh Contacts Number and Location in this instance.
Contact for buying IndiGo air tickets

01713-289170 (WhatsApp)
01713-289171
01713-289172
01713-289176
01713-289177

Note: We only sell IndiGo Airlines tickets. This website has no affiliation with IndiGo Airlines.
Address
GSA: Renaissance Aviation Services Limited
10th Floor, Autograph Building,
67-68, Kemal Ataturk Avenue, Banani Model Town
Dhaka-1212, Bangladesh
IndiGo Airlines Dhaka Office Contact Number
+88 02 9883374
+88 02 9890378
Airlinesbd.com Ticketing
01713-289170
Mobile
+880 1711409704
Email
[email protected]
Official Website
www.indigo.in
IndiGo Airlines Flight Ticket Booking Process from Bangladesh
Among the most trusted ways to order tickets right now is available on the internet. You may save both costs and time by using an online ticket-buying service. With the help of your apps, you may book a ticket using your smartphone or computer. The scam is not used in web ticketing systems. Nowadays, each airline offers numerous deals via OTA. Online flight reservations are presently quite popular. To obtain your tickets, you don't need to wait in a large line. Booking an airline ticket online seems to be quite easy. Just take a few simple steps, such as:
Look up your route (from, origin, and destination)
Choose One-Way or Round-Trip depending on your date
Class as well as a passengers
Activate the search feature
Create a profile
To buy a ticket, enter your amount
Simply use your funds or balance, and buy your airline ticket
Keep a copy of your E-Ticket on your phone by downloading it
On-Board Present your e-ticket and pick up your valid ticket
IndiGo Airlines Flight Ticket Cancellation Process from Bangladesh
Shortly before takeoff or following check-in, you may cancel any flight. Yet, it's doubtful that you'll receive any money back unless your flight ticket is refundable. Even after paying the necessary cancellation fees, you may cancel your ticket in advance and receive a refund. For domestic flights, at least two hours advance notice is required; for international flights, at least four hours.
IndiGo Airlines Flight Ticket Rescheduling from Bangladesh
Whenever a domestic reservation is made at least seven days before the intended departure date, consumers may reschedule or cancel their plans without incurring any fees within 24 hours of making the reservation. IndiGo would charge an extra cost of INR 250 per passenger per area for any booking cancellations made through its phone center.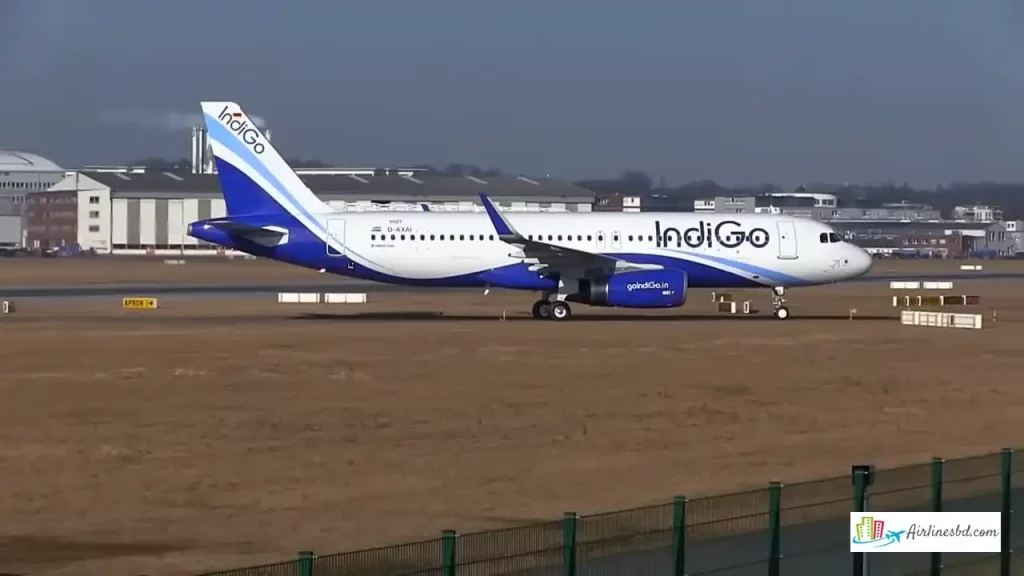 Dhaka to Chennai IndiGo Airlines

Flight Schedule
| | | | | |
| --- | --- | --- | --- | --- |
| Flight No | Departure | Arrival | Operation | Airport Code |
| IndiGo 1936 | 2:20 pm | 4:45 pm | Sat, Mon, Fri | DAC – MAA |
| IndiGo 1936 | 5:45 pm | 8:10 pm | Wed | DAC – MAA |
Dhaka to Chennai

IndiGo Airlines

Air Ticket Price
| | | |
| --- | --- | --- |
| Airlines Name | Road | Ticket Price |
| IndiGo Airlines | DAC – MAA | 17026 TK |
Dhaka to Kolkata IndiGo Airlines

Flight Schedule
| | | | | |
| --- | --- | --- | --- | --- |
| Flight No | Departure | Arrival | Operation | Airport Code |
| IndiGo 1864 | 2:20 pm | 4:45 pm | Sat, Sun, Mon, Wed, Thu | DAC – CCU |
| IndiGo 1859 | 5:45 pm | 8:10 pm | Sat, Sun, Mon, Tue, Wed, Thu, Fri | DAC – CCU |
Dhaka to Kolkata

IndiGo Airlines

Air Ticket Price
| | | |
| --- | --- | --- |
| Airlines Name | Road | Ticket Price |
| IndiGo Airlines | DAC – CCU | 9312 TK |
Read More: Dhaka to Kolkata Air Ticket Price
IndiGo Airlines Online Check-in
Passengers can check in online 48 hours to 60 minutes prior to the departure of a domestic aircraft and 24 hours to 75 minutes prior to the departure of an international flight.
60 minutes before domestic flight departure and 75 minutes before international flight departure, airport check-in is accessible at the counter.
IndiGo Airlines Immigration Services
The airport's administration offers a transportation service. During the transition period, IndiGo will also cooperate in organizing transfer services.
IndiGo Airlines All Destinations from Dhaka, Bangladesh
IndiGo really does have a range of 100 destinations, including 74 domestic as well as 26 international.
| | | |
| --- | --- | --- |
| Bangladesh | Maldives | Saudi Arabia |
| Oman | Turkey | Thailand |
| Qatar | Malaysia | Singapore |
| Kuwait | Nepal | Sri Lanka |
| UAE | Hong Kong | |
IndiGo Airlines In-Flight Meals
There are no complimentary refreshments offered on their flights. You may, however, order your snack in advance when booking your booking, or you may do it at a later time online or by contacting our help desk. You can also buy meals on board if you haven't pre-ordered them, based on availability.
IndiGo Airlines In-Flight Services
For in-flight entertainment, minimal Indian airline IndiGo has partnered with internet video streaming provider SonyLIV. Passengers must sign up for the service in the flight or check-in facilities before they may get the content to their mobile as well as other personal equipment.
To access the membership, travelers of IndiGo will be given a URL. The material may then be viewed in offline or airplane mode while in flight.
IndiGo Airlines Airport Facilities
All Airport 2 and Airport 1 as well as Airport 3 are serviced by IndiGo. The above terminal may occasionally shift; check with your flight for details. But indigo serves its best service in the airport towards their guests.
IndiGo Airlines Baggage Allowance
IndiGo does not provide seat categories. The luggage allowance for internal IndiGo flights is 15kg, with dimensions not exceeding 158cm. The hand luggage allowance on all IndiGo internal routes is 7kg. As carry-on luggage, just one bag is permitted, and its dimensions must not above 55cm x 35cm x 25cm.
A stroller is permitted to hold luggage for a newborn at no additional cost. Aside from that, the IndiGo flights hand baggage limit includes an additional personal item such as a lady's handbag or a laptop weighing no more than 3kg.
Which you can't bring in a plane those items are?
| | |
| --- | --- |
| Real or toy weapons | Arms and ammunition |
| Explosives or anything containing explosives(fireworks or firecrackers) | Any kind of knifes |
| Slingshot | Tradesman's tool |
| Darts | Scissors |
| Metal cutlery | Knitting needles |
| Laser pointer | Corkscrews |
| Razor blades | Hypodermic needles and syringes (if for medical purposes, you have brought the medical certificate to confirm it) |
IndiGo Airlines Missing Luggage
There will be a penalty of $95 for domestic routes and $330 for foreign travel. If the luggage is missing or lost for more than 96 hours after making a claim, Blue Ribbon Bags will reimburse the traveler $19,000 per luggage for internal flights and $66,000 for foreign travel, a maximum of two bags.
FAQ About IndiGo Airlines Dhaka Office
How do I purchase a ticket from IndiGo Airlines Dhaka office, Bangladesh?
It's quite simple. You have the choice to reserve your flight with us. Call 01713-289171 right away to reserve your IndiGo Airlines trip.
Does IndiGo Provide Food While Flying?
No, there are no meals served on flights. But you have 24 hours prior to takeoff to get in-flight food. It depends on what you decide.
Does Indigo Airlines have the lowest fares?
Definitely. Indigo Airlines is one of the greatest low-cost airline service suppliers. They provide a cheap and reasonable ticket cost.
How many planes does IndiGo Airlines have?
According to a forecast for 2021, IndiGo Airlines would be operating 250 planes.
Related: Vistara Airlines Dhaka Office | SpiceJet Dhaka Office | Air India Dhaka Office
Types of Planes Available with IndiGo Airlines
IndiGo flies the A320 CEO and NEO, A321 NEO, and the ATR 72-600. Its A320 CEO aircraft has 180 seats, the A320 NEO line has 180/186 seats, the A321 aircraft has 222/232 seats, and the ATR airline has 78 seats.
We admire the outstanding service provided by indigo Airlines and their commitment to punctuality. As a result, Indigo is the best alternative if you're seeking affordable flight options. Indigo airlines' Dhaka office serves you with the best assistance for flights.
The airline also offers the most direct flights to the majority of Indian locations. Let's look at the cost of flights to some well-known locations to help you comprehend. Because Indigo flights nearly never arrive late, make sure to be on time at the gate!