US-Bangla Airlines sales office on Gulshan-2, Dhaka in Bangladesh, and Arif Plaza, 41-Kamal Ataturk Avenue, Banani. Privately owned and operated US-Bangla Airlines, a carrier serving Bangladesh, is based at Shahjalal Airport Terminal in Dhaka.
The airliner is the largest private airline functioning in Bangladesh, behind the state carrier Biman Bangladesh Airlines. The company was founded in 2010 and runs on the motto "Fly Fast – Fly Safe."
The US-Bangla Group, this industry's parent organization, and its base are both in Dhaka, Bangladesh. The prominent players are Abdullah Al Mamun & Imran Asif (CEO).
With US-Bangla Airways, you may fly on a budget from Dhaka to Chittagong, Cox's Bazar, Sylhet, Jessore, Rajshahi, Saidpur, Barisal, Kathmandu, Kolkata, Muscat, Kuala Lumpur, as well as Singapore. The US-Bangla Airlines sales office may assist you if you're a citizen of Bangladesh!
US-Bangla Airlines Sales Office
The main headquarters of US-Bangla Airlines sales office is situated at 77 Sohrawardi Lane in Dhaka-1212, Baridhara Diplomatic Area. Budget airline US-Bangla Airlines, which is privately owned, is based at Shahjalal International Terminal in Dhaka, Bangladesh.
This aviation industry, which serves as Bangladesh's main carrier, has great administrative practices, aircraft that are of remarkable reliability and provide superb flying comfort, and a recent improvement in on-time performance.
The plane's two-letter IATA protocol is BS. All airlines in a nation conduct business with GSA, PSA, or travel agents. Only authorized travel agents are allowed to offer at a price significantly below GSA & PSA. Because authorized travel agents interact with individuals from the general public & work for commissions.
Contact for buying US-Bangla Airlines tickets

01713-289170 (WhatsApp)
01713-289171
01713-289172
01713-289173
01713-289174

Note: We only sell US-Bangla Airlines tickets. This website has no affiliation with US-Bangla Airlines.
US-Bangla Airlines Dhaka Sales Office
US Bangla

Baridhara Sales Office
House # 82/KA, Road No-11,
Sohrawardi Avenue, Baridhara, Dhaka-1212
Contact Number
01777777820
Office Hours
Saturday-Thursday 10:00 AM – 06:00 PM
Friday: Holiday
US Bangla

Dhanmondi Sales Office
Orchid Plaza Shopping Complex
(Beside Rapa Plaza) Mirpur Road, Dhanmondi
Contact Number
01777777812-813
Office Hours
08:00 AM – 08:00 PM
US Bangla Banani Sales Office
Arif Plaza, 41-Kemal Ataturk Avenue, Banani
Contact Number
01777777804
01777777806
01777777807
Office Hours
08:00 AM – 08:00 PM
US Bangla Motijheel Sales Office
Baitul View Tower (16th Floor)
56/1 Purana Paltan, Dhaka-1000
Contact Number
01777777818-819
Office Hours
08:00 AM – 08:00 PM
US Bangla Uttara Sales Office
House No.20, Sector-7,
Lake Drive Road Uttara Model Town
Contact Number
01777777814-815
Office Hours
09:00 AM – 08:00 PM
US Bangla Banasree Sales Office
House-8, Road-2, Block-C
Banasree, Rampura
Contact Number
01777777861
Office Hours
10:00 AM – 08:00 PM
US Bangla Dhaka Airport Office
Hazrat Shahjalal International Airport
Contact Number
01777777816
01777777817
Office Hours
06:00 AM – 09:00 PM
Website
https://usbair.com/
US-Bangla Airlines Chittagong Sales Office
US Bangla Agrabad Sales Office
Agrabad Hotel, Agrabad C/A
Contact Number
01777777821-822
Office Hours
08:00 AM – 07:00 PM
US Bangla Nasirabad Sales Office
Modina Tower, GEC More, Nasirabad
Contact Number
01777777823-825
Office Hours
08:00 AM – 08:00 PM
US Bangla Chittagong Airport Office
Shah Amanat International Airport
Contact Number
01777777827-828
Office Hours
06:00 AM – 09:00 PM
US-Bangla Airlines Cox's Bazar Sales Office
Address
Hotel Kollol Complex
Laboni Beach Road, Cox's Bazar
Contact Number
01777777841-842
Office Hours
08:30 AM – 07:30 PM
US-Bangla Airlines Sylhet Office
Sylhet Sales Counter Address
Raj Mansion, Niloy-15, Chowhatta, Sylhet
Contact Number
01777777829-830
Office Hours
09:00 AM – 07:00 PM
Sylhet Airport Office
Osmani International Airport
Contact Number
01777777832
01777777832
Office Hours
10:00 AM – 05:00 PM
US-Bangla Airlines Jessore Office
Address
Khan Complex
77-Mujib Road, Kotwali, Jessore
Contact Number
01777777833-834
Office Hours
09:00 AM – 07:00 PM
Jessore Airport Office
Jessore Airport, Terminal Building
Contact Number
01777777836-837
Office Hours
08:00 AM – 07:00 PM
US-Bangla Airlines Khulna Sales Office
Address
Nurjhan Complex
41, Ibrahim Mia Road, Shibari More, Khulna
Contact Number
01777777838-839
Office Hours
09:00 AM – 07:00 PM
US-Bangla Airlines Saidpur Sales Office
Address
Dr.Zikrul Hoque Road, Saidpur
Contact Number
01777777845-846
Office Hours
09:00 AM – 07:00 PM
US-Bangla Airlines Rangpur Office
Address
D.C More, Rangpur
Contact Number
01777777852
Office Hours
10:00 AM – 06:00 PM
US-Bangla Airlines Barisal Office
Address
Hossain Point, 47 Sadar Road, Barisal
Contact Number
01777777848-849
Office Hours
09:00 AM – 08:00 PM
US-Bangla Airlines Rajshahi Office
Address
223 Sultanabad (2nd floor)
New Market Road, Rajshahi
Contact Number
01777777853-854
Office Hours
09:00 AM – 08:00 PM
US Bangla Airlines Flight Ticket Booking Process
The most effective way to acquire tickets right now is online. You may save a lot of money along with time by using a platform for online ticketing. With the help of your apps, you may book a ticket using a desktop or a cell. 
At the moment, every airline offers a range of OTA deals. Web airline ticket purchases are quite prominent. A flight ticket may be easily bought online.
US Bangla Airlines Flight Ticket Cancellation Process
It is intuitive and easy to cancel a flight online with US-Bangla Airlines. Alternatively, a refund request form can be completed on the US-Bangla Airlines website. The only fares that are eligible for a refund are those that were purchased on qualified US-Bangla Airlines trips that are canceled within the active term. Refunds are not available once the ticket's expiration date has expired on US-Bangla Airlines.
Refund requests may take significant time to complete, but they are typically handled between 7 to 10 days, according to US-Bangla Airlines. When US-Bangla Airlines cancel flights due to unforeseen airline-related incidents, customers are provided compensation so they can book a future journey with the airline. US-Bangla Airlines consequently makes it simple for you to change your arrangements and receive a refund.
If you already have a schedule with US-Bangla Airways but need to make an immediate change to your travel plans. You have two options for US-Bangla Airlines cancellations: online or via phone. You must input or provide the flying executive with your travel reference number in order to begin the foreclosure procedure. You will be notified of your options for a refund when the US-Bangla Aviation cancellation procedure is finished.
US Bangla Airlines Flight Ticket Rescheduling
Consult us here at 01713-289171 or 01713-289172 to reschedule a reservation or flight. You may even use us to alter the timings and dates of your trips on the exact day.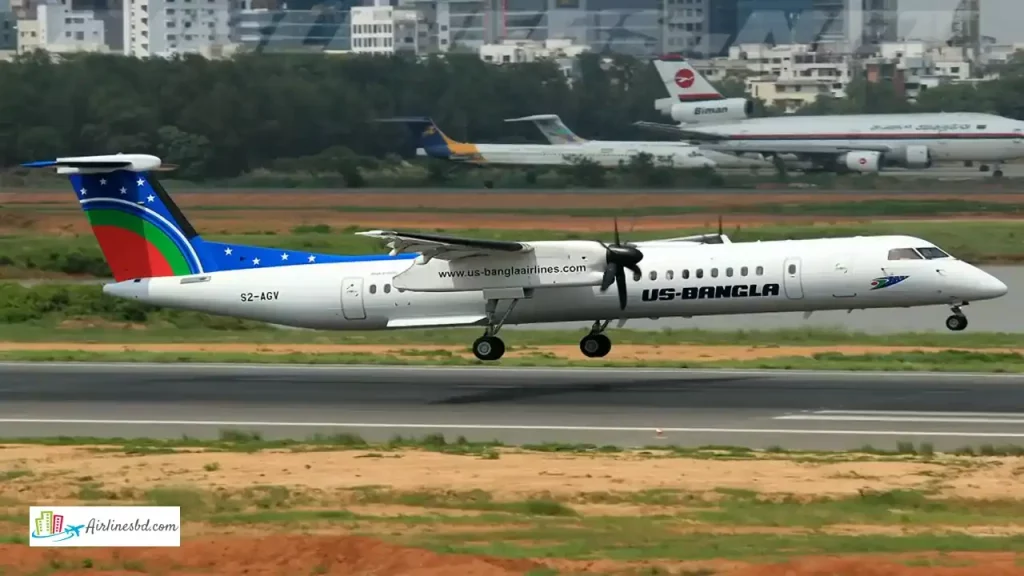 US Bangla Airlines Online Check-in
Online check-in is available to tourists of US-Bangla Airlines 24 hrs before arrival. You follow the simple instructions provided by US-Bangla Airlines to obtain your identification cards and online ticket.
See the flight plan by using your US-Bangla Airlines fare or verification number, name (as it occurs on the e-ticket), and frequent flyer profile information. The smoothest and most practical way to travel on a US-Bangla Airlines aircraft, whether it is local or foreign, is through online check-in.
By accessing web check-in on the airline's main site, you may also check in immediately with US-Bangla Airlines. The client can simply dial the airline's customer support hotline. The regular check-in process may be sped up with the use of US-Bangla Airlines' distinctive elements.
Travelers can check in online starting 48 hours prior to a domestic route departing and starting 24 hours prior to an international flight departing.
Response check-in for domestic flights starts 1 hour before departure, whereas it starts for international routes 75 minutes earlier takeoff.
US Bangla Airlines Flight Information
The leading prestige carrier in Bangladesh, US-Bangla Aviation, boasts the best customer service and on-time performance, as well as unequaled reliability and superlative comfort. Our goal is to be Asia's most famous airline by committing to the reliability, total safety, and superlative comfort. We aim for uncompromising excellence in all aspects of our business with honest devotion.
Our purposes are to
Extend globally while providing inexpensive air travel alternatives;
Provide amazing customer interaction with the highest quality of service from dedicated and well-trained people;
Maintain consistency in keeping the rigorous quality of safety.
Economy Class Amenities
The carrier's economy category offers a modest ticket that allows you to choose any extras you need while flying. When you select cost-effective economic activities, the cost includes it all.
Another alternative for amusement is the Blue Sky, an in-flight book issued by US Bangla Airways that offers facts about Bangladesh. On its flights, the airline offers a range of foods and beverages, while also special meals such as diabetic & baby meal sets. On board, the airline solely provides Halal meals.
Seats: Seats are organized in a 3 x 3 configuration based on the aircraft to ensure that every passenger is sat by a window, aisle, or maybe both.
Business Class Services
The business class provides the greatest level of comfort. You may choose from a choice of US Bangla Aviation meal and beverage selections, as well as additional room and area on the plane.
Seats: The plane's couches are configured in a 2 x 2 pattern, allowing passengers to stretch out comfy.
US Bangla Airlines All Destinations from Dhaka, Bangladesh
Since about November 2022, US-Bangla Aviation serves 8 domestic as well as 11 international destinations throughout 10 countries. Popular US-Bangla Airlines Flights to Dhaka include Chittagong trips, Saidpur trips, Sylhet trips, Jessore trips, Kolkata trips, Cox's Bazar trips, Doha trips, Muscat trips, Barisal travel, and Kuala Lumpur trips.
Domestic Destinations
| | | | |
| --- | --- | --- | --- |
| Dhaka | Jessore | Cox's Bazar | Sylhet |
| Rajshahi | Barisal | Saidpur | Chittagong |
International Destinations
| | | | |
| --- | --- | --- | --- |
| Bangladesh | India | China | Oman |
| Qatar | Thailand | Malaysia | Singapore |
Read More: Dhaka to Kolkata Air Ticket Price US-Bangla | Dhaka to Jessore Air Ticket Price
US Bangla Airlines Dhaka Airport Lounges
While you go, relax and chill in these lounges. Amongst lounges at Dhaka International Airport are the Skylounge, MTB Air, as well as Intercontinental, and Dhaka Balaka executive lounges. There are waiting lounges for both domestic and international ports.
US Bangla Airlines In-Flight Meals
Meals may make our journey more enjoyable. Each airline provides meals to its passengers while they are in flight. There are diabetic, vegan, and baby meals, as well as gluten-free options. Inflight meals are already included in the ticket fee. These meals differ depending on whether you are flying in the economy or business category.
US Bangla Airlines In-Flight Services
This aircraft offers a wide range of amenities and services. Several of the in-flight bonuses include Sky Gourmet, Special Desserts, Additional Leg Room, as well as In flight Wi-Fi.
US Bangla Airlines Baggage Allowance
Almost every traveler on a US-Bangla Airlines trip is permitted to carry one carry-on baggage and one checked luggage. Each person should carry no more than 7 kilograms. Checked luggage for international flights has weight limitations of 20 kg as well as 30 kg, correspondingly. This is something that both children and adults can rely on.
Which you can't bring in a plane, those items are

?
| | |
| --- | --- |
| Real or toy weapons | Arms and ammunition |
| Explosives or anything containing explosives (fireworks or firecrackers) | Any knifes |
| Metal cutlery | Slingshot |
| Tradesman's tool | Darts |
| Scissors | Knitting needles |
| Corkscrews | Laser pointer |
| Razor blades | Hypodermic needles and syringes (if for medical purposes, you have brought the medical certificate to confirm it) |
US Bangla Airlines Missing Luggage
If your stuff is late or missing, you may claim it and call the luggage service at 01777777816;
01777777817 from any part of the country and around the world.
Short Story About US Bangla Airlines
Did you know that US-Bangla Airlines has started operating domestic routes? On July 17, 2014, the airline launched two local flights from Dhaka: Chittagong & Jessore. Subsequently, in August, passenger flights from Dhaka to Cox's Bazar commenced, followed by US-Bangla Airlines trips to Saidpur in October.
Because this was the initial effort of the US-Bangladesh Association, the phrase "US-Bangla" functioned as the major agenda. During September of that year, the airline announced its plan to progressively roll its first ever 3 Boeing 737-800 planes and to begin more foreign routes, like those to Singapore as well as Dubai, within months to come. Flights from the United States to Guangzhou started in 2019.
FAQ About US-Bangla Airlines Sales Office
Can I travel locally on US-Bangla Airlines?
US-Bangla Airlines presently serves the following domestic destinations. Chittagong, Dhaka, Cox's Bazar, Jessore, Saidpur, Rajshahi, as well as Barisal.
What exactly is the Sky Star Program, exactly?
The Sky Star System is the frequent flyer scheme of US-Bangla Airlines, and it provides various prizes and benefits to its devoted members. The expedition's distance traveled contributes to the accrual of Sky Star Miles.
Could it be safe to fly between the United States and Bangladesh?
It ranks among the best airlines we are familiar with, with no fatalities.
Who owns US-Bangla Airlines?
The US-Bangla Organization is the company that owns US-Bangla Airlines. It is Bangladesh's second-largest airline overall, after only carrier Biman Bangladesh Aviation, and the country's leading private airline by fleet size.
Related: Biman Bangladesh Sales Office | Air Astra Dhaka Office | Novoair Sales Office
Types of Planes Available with US Bangla Airlines
As was already stated, their main objective is to fly passengers in accordance with the strictest safety standards. The US-Bangla Airlines fleet today consists of 4 Boeing 737-800s as well as four Dash 8-Q400s. The fleet is composed of 16 ships. These are a listing of all of its planes.
Airbus A321LR; Boeing A330-200, A330-300, including ATR 72-600; Boe 737-800; De Havilland Dash 8-40; and Boeing 737 MAX.
Last but not least, US Bangla airlines provide the most comforting and safe journey. For more queries, visit the US-Bangla Airlines sales office.